When I received an email from Dr. Lumsden asking me so kindly if he could forward a copy of his book, "The Hidden Whisper" for me to read and review, I accepted very quickly without knowing why. Once I received the book and read it, I immediately discovered the answer to that question.
The author has a PhD from the Koestler Parapsychology Unit, at the University of Edinburgh and is an experimental parapsychologist. I had expected the usual non-fiction book dealing with Extra Sensory Perception and experiments into parapsychology, something that has always interested me greatly for a long time, but was surprised when I read the book
Even though this book is written as fiction, with the story centering on Dr. Luke Jackson (a British parapsychologist), it has footnotes on each and every paranormal and parapsychological term and topic mentioned in the book. All these explanations are written at the end of the book as Endnotes and turn the book into a unique fiction, non-fiction mix that is very well written. The story is set in the desert of southern Arizona in the United States and centers on a well to do family living there that is experiencing paranormal activity. Dr. Luke Johnson finds himself undergoing an investigation to discover whether or not a poltergeist is plaguing the Monroes. As Dr. Jackson delves deeper into the investigation we find ourselves questioning the 'poltergeist' along with him and immerse ourselves in a plot that is not only mysterious, but entertaining and amusing as well. It's my hope that this is not the last book about Dr. Jackson and that we shall be seeing his character in future books as well!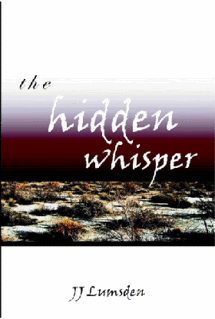 I'd like to conclude by adding that I thoroughly enjoyed the book and strongly urge you all to visit his website by clicking the link below. If you like reading about parapsychology and the paranormal, then you should buy it. Here is an excerpt of the book taken from his Final Comments which I thought necessary for this review:
"For sceptics and advocates alike, this book illustrates that our understanding of the paranormal is nowhere near complete. Phenomena (if they are real) are often elusive, complex, and difficult to investigate. It is unlikely there will be a definitive experiment any time soon.
Moving forwards, it seems clear that more research is needed. Experiments must be conducted objectively, deliberately and fairly. In the meantime, we should not be bowled over by those who shout the loudest or talk the smoothest – no matter how sure they seem."
Finally, Dr. Lumsden agreed to answer some questions I asked in an email about himself and the book, which I reproduce below verbatim.
Have you ever been to the States? Why did you choose Arizona, and most importantly, why the Indians?
I have an American Mother, and a Grandmother who lives in Arizona. As part of my Gap Year between school and University - I bought a car in Virginia and drove a big 6 month circuit around the country. It was on that trip that I first visited Arizona, and connected with the place - I very much enjoy the look, feel and rhythm of the desert. Down the line, when I came to write the book, I thought it would make a distinctive and interesting backdrop to the storyline.
Is the principal character based on a real person?
No, he's a mix - a blend of real life people and fiction.
I thought the book would take about a year to write (in the end it took three) so his character really evolved across the various drafts of the book. The original Luke was very different.
Do you intend to write a series based on Dr. Luke Jackson solving other paranormal mysteries?
I'm not sure at the moment; we'll have to see whether people like Luke, and want to see more of him.
I do, however, have the rumblings of another book in my head - but it's quite unlike The Hidden Whisper.
Could you share with us a paranormal experience that peaked your interest in the paranormal field?
There was no single event that got my interest going. Like a lot of youngsters, I was always curious as to how the world ticked, and the paranormal was one part of that. As I got older, the interest grew stronger - if phenomena proved genuine, there were significant consequences for our worldview and how the universe worked. When University and the opportunity to get involved in Parapsychology came along, I decided that was my best way forward.
http://www.thehiddenwhisper.com/
Click for Amazon